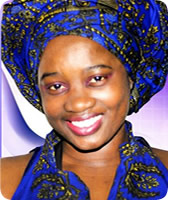 Board of Trustee - Executive Director of Networking and Diaspora Affairs - TADMI Inc.

Grace Holds Bachelors of Science in Medical Laboratory Science, Community activist, and a Radio host, She has been highly involved in the community particularly in churches and African organizations. 2010, Grace return to Ghana and touch many souls.  She sends money and clothing materials to children and young adult at deprived community. She organizes street party for streets boys and girls. She visited the poor and sick once at their sick bed, also, organized educational workshops at the towns and cities in Ghana.
Grace has seen the need of helping others so she was very move and motivated to form Grace Imo Foundation in 2010. The aim and purpose is to give aid to the needy. Visit us at; www.graceimofoundations.com
Because of Grace's Zeal in community development, she was appointed as African Adversary Council Art & Culture Chairperson at Bronx Borough President Office and also chairs Africa Union Foundation.

Grace is very well noted of her community involvement. All her years at USA, she has served tireless in helping her fellow immigrants. She organize occasional programs for the African of the Diaspora; seniors, youth, women, and children.
She is the GAYO leadership and community organizing honoree from 2004 to 2010. Also Grace was 2013 NAACP Bronx Branch community leader honoree and received proclamation from Bronx Borough president. Leadership Certificate of merit from New York Mayor Michael Bloomberg and New York Assembles of distract 86. Awards from Diaspora African youth sports club and Africa Promotion INC.

Grace has found the need of reaching out to the large number of the African Diaspora.  Due to this reason, she has created a very educational and informative program called Grace Imo African Diaspora Matters Now Talk Show (Abrokyire Nsem). Grace is a being that never sit and watch things to go down. She is always on the move to do something new in the benefit of others. So she has created various programs for the women call, "the women in the mirror" club where women meet and share their odd and daily negativity thoughts. Also form youth program call getting the best out of your youth; leading them to value what they have and encourage them to aim high, and teaches them, how to give back to their community.

Grace is highly aspiring community leader, very well known among many African of the Diaspora especially , Ghanaians, Togolese, Bennin, Zambia, Kanye, Gambia's ,Nigerians, and many more.
As more evidence emerges about TADMI'S effort to, if not eradicating poverty then reducing it, has promoted Grace to support the work of TADMI and hence serving on the board to offer her experience and skills to move TADMI forward. As a decades-long veteran of social activism straddling between two continents Grace is looking forward to proving herself as a valuable asset to The Affum-Darkwah Mission International. (TADMI) Inc.