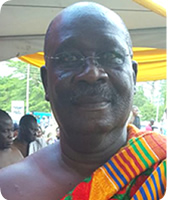 Board Member and Trustee on chieftaincy Affairs for TADMI
Nana Ofei Asamani I, Nkosoohene (Development Chief) of Akwamu Traditional Area, is also known in private life as Francis Togbe Agbelom.
An astute Business Executive and entrepreneur, currently he is the Chairman of Reinbee Group of Companies and a senior consultant to the Shenzen Energy Group of China – owners of Sunon Asogli Power plant Kpone, Ghana. He is also a director of CSC Salo International.
He has a sweet and natural personality who always expresses his earnest desire to help others. He has been involved in a lot of benevolent causes towards the needy in society in and outside of Ghana and has received a lot of commendations from churches, local communities and lots of people.
As a Chief, he believes that a good leader is the one whose satisfaction rests in his people's fullness: consequently, his willingness and readiness to work hard to achieve the cause of TADMI Inc.