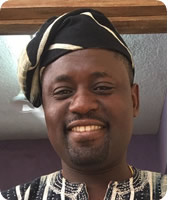 Founder and Chief Executive Officer (CEO), USA and Ghana
Daniel Affum-Darkwah, holds Bachelors of Science in Healthcare Administration, Experience Medical Assistant including Phlebotomy and Clinical Research. He believes that, there is nothing impossible in this world through Jesus Christ if you set your mind to it. Daniel is an astute individual with clear mind set to help people.
He has worked most of his life in large hospitals with over 15 years of experience within the healthcare environment. He is a visionary and entrepreneur with unsurpassed drive to achieve any set goal in life. He said, life is how you make it and you cannot do things, anyhow, and expect success. Be serious in life and life will treat you right!
Daniel displays tenacity and resilience when faced with complex task. His positive attitude to life and practical approach to problem solving actually motivates others to also adopt the "can do it" spirit. His passion is to see the sick recover and the opportunity for every human being to succeed in life. This is a man you would love to associate and work with. Aside from his permanent reliable staff in US and Ghana, he employ external-employees on project-based in order to keep his operations cost as efficient and sustainable for further growth and development. It is good to give than to receive.