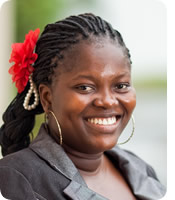 Board member and Trustee
Rosina Akourkor Teye is a young woman human rights, youth and political activist. She is the Regional Secretary for the Coalition of NGOs in Health in the Central Region and has also contested as an aspiring Member of Parliament for Assin Central Constituency. She studied sociology and social work at Kwame Nkrumah University of Science and Technology (KNUST) in Kumasi, Ashanti Region, Ghana. She is the founder of Dolly Foundation, an NGO dully registered in Ghana.
Dolly Foundation, provides training and community education on violence against women, harmful cultural practices and economic inequalities for women and girls. Ms. Rosina Teye has obtained diplomas from Cambridge International College in London, England, and certificates for an HIV/AIDS program and a Legal Literacy Volunteer course from Women in Law and Development of Africa (WILDAF Ghana), an NGO working to promote women's rights.
Ms. Teye has also done one year leadership training under the Women in Politics Training (WIPT) program organized by Friedrich Ebert Stiftung (FES), ABANTU and Women in Broadcasting (WIB). In 2014 Ms. Rosina Teye is did a two year program as a vital voice fellow, in the Hillary Clinton emerging young leaders program. Rosina furthermore has expanded her professional experience as regional reporter for the Youth Climate Report. Rosina has attended numerous conferences and training events in Ghana; she served as a member of the peer reviewer's team for the drafting of the Youth Manifesto in Ghana.
Ms. Teye believes that she is where she is today because she stood on the supportive shoulders of others and believes that she has a reciprocal responsibility to help others. She believes that everybody has talent but the opportunities are limited. She currently resides in Ghana. She is fond of cats and has a cat named "Born Great".