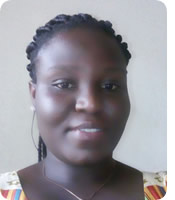 Board Member and Trustee
Miriam Yorke is a young lady who completed senior high school at Obiri Yeboah senior high school at Assin Foso in the central region of Ghana. After completing SHS, she  started a small business and became successful. Miriam later worked as an attendant at the creche of Paul Louis preparatory school. It was a work she really enjoyed due to her love and admiration for children.
This motivated her to sponsor some needy children in her community.  She also enjoys voluntary service and is always out there to help people especially children of school going age. Her dream is to become a philanthropist or to own an NGO which will provide help and other services to children.
Miriam Yorke joined TADMI as a board member to enable her dream of providing voluntary assistance of services to humanity as long as she can.  Miriam know TADMI can provide her the opportunity for growth and hope to see TADMI grow bigger to have great international reputation.